I like traveling. I like being in new places. If it weren't so hard for me to approach people I would probably like it a lot more. So when I started getting tattooed while traveling, I found a portal to a wealth of information. Here was a captive audience who absolutely knew where to get the best sandwiches in the city, or how to find happy hour fish tacos.
Seattle
In Seattle it was Liberty Tattoo. Most shops have a walk-in time set aside. Bigger shops are often open late. It's always intimidating at first. The very nature of the act is intimate: a new space, a new city, and a new person that you're asking to permanently alter some form of your appearance. I picked Emily Nelson. Friendly, with a good portfolio and a wicked smile, she made me comfortable and made me laugh. She was gracious with my requests and we ended up doing a piece of butterfly flash off the wall as well, for fun. Within 20 minutes she had drawn up what I wanted and we were sitting down to get started. Nervously I enquired about a good place to eat after and suddenly the dialogue was open. This is what I love about tattoo tourism. I walked in unsure, and now I know that the best barbeque is The BBQ Pit and if you really want good coffee, Victorola will help you out.
I also know that the local artist crowd is struggling with recent gentrification of the city. That the bank down the street used to be an incredible record shop and that the cost of living and traveling to work is becoming more than what the locals can handle. That they want a garden and to raise chickens but there's no space left to grow. I feel for them. There's a connection now to a place that I've never been, to a person. I was a stranger in a strange place, and an hour later I left with a piece of the city on my skin and BBQ on my brain.
G/O Media may get a commission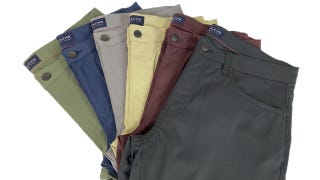 JACHS NY Fall Stretch Tech Pants
Portland
If ever there was a place to get tattooed on a whim, Portland would be it. Artistry is ingrained here. There in October, I was remarkably surprised by the warmth. It was humid and heady, and I loved every second of my first visit. Walking through the streets to Scapegoat tattoo, I was struck by how old the area seemed. Heavy tree branches hanging low over tall brick houses and small streets, the wind whipping up leaves that seemed prematurely fallen. When asked about things to see, Aron Dubois looked up from the tattoo he was carefully lining in and smiled brightly. He told me about Lone Fir Cemetery. The oldest cemetery in Portland, it housed over a hundred years of history. Carved stone faces look out ominously, and walking through it later, I felt what he was saying. That this city seems older than it is. It felt ancient but welcoming. Here was a place I could be alone, here was a place I could be with people.
From there, I checked off every name on his list. Breakfast one day at Roost, the next at Broder. If you've never been, Broder makes the best Scandinavian pancakes I've ever had. Dinner at Pok Pok (I highly recommend the chicken wings) and drinks at The Ace, just for the experience. I left Portland on the train, full and feeling thankful.
Vancouver
Vancouver sprawls. The city is humid and loud with frantic activity. The street shops are busy, and I forgo them for now. Driving out of the city proper to Steveston seems like too much work, but in the end I'm so thankful I do. The village is picturesque and I'm not surprised to hear that they film a popular network television show here. The area is small enough to appreciate in an afternoon but I'll find later that that won't feel like enough time.

Steveston Tattoo Company sits a little ways back from the water. The hand lettered shop signs welcome you in and speak to a sense of traditional craftsmanship. Though they don't have time to tattoo me this visit, one of the artists takes a minute to chat with me about my ideas. Her respectful manner and commitment to experience are not lost on me and I enjoy my time with her. I buy a t-shirt because the sunshine has me feeling touristy, and she throws some stickers and pins in my bag as well. On a recommendation called out from the back I walk down the street to Bell's Bake shop and eat an amazing cupcake with lavender buttercream icing. I buy an entire box, and have no regrets. Standing on the wharf watching the fishing boats come in, I feel like I could stay here forever.
Victoria
Victoria is a beautiful city. Visiting Victoria is a pleasure on many levels. The weather is mild, and the city is easy to navigate. Walking through the streets gives you a chance to explore hidden gems. Government Street Tattoo is near Chinatown. One of my favorite storefronts ever leads to an open bright space. The walls are covered in work from some of the most prolific artists in the business. The crew here is friendly and professional, with a lot of different styles to choose from. The shop is busy and buzzes with activity as we sit down to get started. Chris David reworks an old tattoo for me, creating and elevating the work to a new level. The mood is light and his demeanor helps me feel at ease.
Out on the street, the city moves. Stepping out of the shop leads you into the heart of downtown. When you get through Chinatown, you can grab a locally roasted cup of coffee from Habit. A jaunt in the other direction will take you to some of the best donuts ever at Discovery Coffee. I had an earl grey tea donut there once that I will never forget. The cherry blossoms every spring cover the city in shades of pink and white, a blizzard that swirls around you when the wind pushes off the ocean and up into the city. Freshly tattooed and full of wood fired pizza from Prima Strada, Victoria never fails to leave an impression on me or my skin.
Home
There's something special about coming home. Every time I go away, I'm reminded of where I need and want to be. Being tattooed here is more of a process. We often choose tattoos that can be meaningful to me. We book in advance, and carefully plot to utilize all the real estate my skin has to offer.

Here I find a thoughtful connection to someone I know, who's seen me before. Jason O'Sullivan has tattooed me several times. We see each other at the coffee shop, we gossip about the most recent episode of Drag Race. When I ask him for a large moth on my abdomen, he comes through with a killer drawing that exceeds expectation. This is for me. Circumstances have arisen and I won't be having a child. This is a tribute and a journey in its own right.

At the end we watch the rain fall and share a croissant from down the street. He and I discuss coming home. What it means to create a place of our own, in a skin we've covered in souvenirs along the way.
Top illustration by Tara Jacoby. Photos are the author's own.
Savannah Eanes is a business manager and social media advisor living on the West Coast. In her spare time, she travels in search of baked goods and perfect ramen.
---
Flygirl is Jezebel's new travel blog dedicated to adventures big and small, tips and tricks for navigation, and exploring the world at large. Have a story or an idea? We're always taking submissions; email us with "Flygirl" AND your topic in the subject line. No pitches in the comments, please.